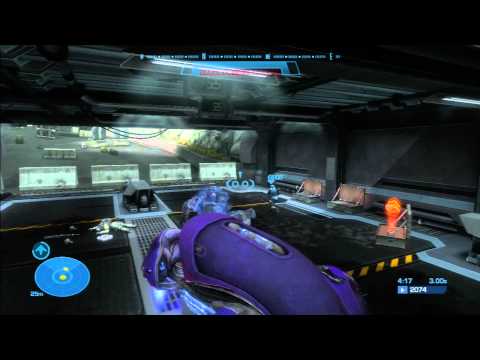 Wow. Even I am baffled by the results here. I knew the previous record was beatable, but not by a whole 35 seconds. I completely blew my goal away! Well, here goes:
The initial fight at the beginning was almost flawless. I couldn't ask for a better fight. Your main targets here are the elites, then the jackals. Take them out as quickly as possible, and you should be through in no time. For me, using both the sniper and the plasma pistol was the easiest and fastest way to kill every elite.
After that, the ghost portion went pretty well. A crate at the AA gun cost me a few seconds, but it was nothing serious.
Back at the base, my TL shot managed to take out every enemy, so getting to the hunters was a breeze. Speaking of the hunters, I managed to kill each of them with only 3 rockets (total of 6), saving considerable time and an extra rocket.
The hallway after the elevator was atrocious. I killed all the grunts, but I let the elite gain some distance, and it put several painful shots in me. As a result, I had to lose many seconds while trick jumping to prevent from killing myself…
The banshee section at the end was great, however. Somehow, the phantom dropped of the elites AND a suicide grunt (probably a turret grunt). Once I blew up the phantom and one or two banshees, everything was dead. Emile actually decided to be helpful for once!
End result is 7:06. I'm glad I got this done, because I'm not planning to do this level ever again anytime soon. If someone were to clean up my mistakes, this could easily go sub-7. Good luck. [edit by NOKYARD: It does go sub 7. Way sub 7. Stay tuned.]
Discuss this Speed Run in our forum